Bakcell Company has created dual roaming connection with Cubacel, Cuba, mobile communications operator in 900 MHz.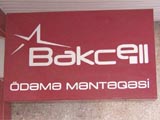 The Press Service of company told APA that Cubacel is the first communication company in Cuba cooperating with Bakcell.
Bakcell has also provided roaming service for TELE2 (1800 MHz) mobile communications company subscribers in Croatia. Bakcell has got its third roaming partner in Croatia after signing this agreement. T-Mobile and VIP-Net mobile companies are the previous roaming partners.
Bakcell subscribers can make use of international roaming service through 216 operating networks in 123 countries.