Jeyranbatan and Kur water that provides supply for Baku completely meets The World Health Organization norms. Drinkable water from 50 sources for Baku is examined every day.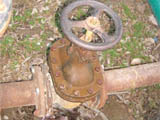 "That this water is harmful for human organism is the wrong idea," Nizameddin Rzayev, Head of Azersu Joint-Stock Company, told in his talk to media.
On his words, drinkable water storage pools in Azerbaijan are secured by special division against any terror or other attacks, APA informs.
"Terror attacks against water reservoirs are not excluded because our country is now under military situation. Because water supply for population is regularly controlled it threatens no danger."
Head of Azersu JSC reported about reconstruction of water supply system in Ganja and Sheki in July and it will end in three years.
"Azersu is currently in negotiations with The World Bank on financing reconstruction projects of several regions. At the same time Japanese Bank for International Cooperation (JBIC) intends to allow privileged credits for some other regions," Mr. Rzayev told.