Crude-oil futures dropped Friday after the International Energy Agency sharply cut its forecasts for world oil demand and three foreign oil workers kidnapped in Nigeria were released unharmed.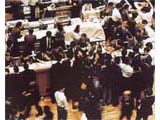 As The Associated Press news agency reports from London, the group cut 220,000 barrels a day off its growth forecast for the year, with growth now trimmed to 1.25 million barrels a day and overall demand now at 84.83 million barrels per day.
Gasoline futures fell 3 cents to $2.1890 a gallon, while heating oil prices dropped nearly 2 cents to $2.0785 a gallon. Natural gas fell 9 cents to $6.557 per 1,000 cubic feet.
On Friday, police and company officials said three workers had been released. The oil workers, including one Italian, work for a subsidiary of the Italian energy company Eni SpA and the company confirmed the hostages' release, saying they were safe.
The kidnappings Thursday were the second attack in about 24 hours on foreigners in Port Harcourt, where many oil-services companies keep their main Nigerian operations. On Wednesday, a gunman killed an American riding in a car to work at the offices of the U.S. drilling-equipment maker Baker Hughes Inc.
The Nigerian situation has "increased fears of lower export volumes from the oil-rich region, with most of its supplies heading to the U.S. and Asia," said PVM Oil Associates in its daily report.
Concerns about Iran, a major oil exporter, also continued to support prices.
This week, key U.N. Security Council U.N. Security Council members agreed to present Tehran with a choice of incentives — including energy security and civilian nuclear power — or sanctions in deciding whether to suspend its uranium enrichment program. The move delays a U.S.-backed draft U.N. resolution that could lead to sanctions, or even possible military action, if Iran does not suspend enrichment.