Today Musavat Party Head Isa Gambar has held a press conference dedicated to re-parliamentary elections on May 13.(APA). Isa Gambar has stated that the party has forwarded 7 candidates on 10 constituencies, on the other constituency it supports other party's candidate.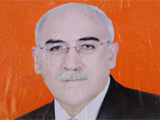 The opposition leader said that since opposition members have chance to win, preparation works are implemented to falsify the elections. He has related this opinion to not being opposition members' in the commissions. Isa Gambar said that during election terms law violations in the election constituencies were informed to relevant state organs but without any result.
"However, we are decisive to continue the struggle till the end. Council of Europe has stated that activity of Azerbaijan in this organization will much depend on this re-election. In June session of Parliament, results of re-elections will be discussed. We consider that, the government has considered international prestige of Azerbaijan, and will refrain from falsifying election results."
As for the "Exit-poll" in the elections, in difference with 6 November parliamentary elections, according to Isa Gambar, this time poll to be conducted by International Republicans Institute will be organized more transparent. "Party representatives take part in this process and we will observe holding of "exit-poll" if the results of "Exit-poll" is appropriate to real results, we will accept it."