2nd Furnishings and appliances exhibition (CEM) and Cleaning and hygiene equipments exposition (CleanExpo) has started in Baku.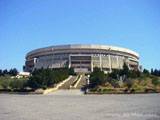 The organizers are ITE Group Plc. Exhibition Company, United Kingdom and Iteca Caspian, its exclusive partner in the South Caucasus, beginning on May, 13. Organizers have held press-conference today. Mehman Ahmadov, Chamber of Commerce and Industry Vice-President, has said that besides oil sector, non-oil sector is already developing in Azerbaijan.
"Organization of these two expositions may be considered an event," he said.
Bahruz Hidayatzade, Iteca Caspian Vice-Director, has said that both expositions are supported by Azerbaijan Chamber of Commerce and Industry, Azerbaijan Export and Investment Promotion Foundation (AzPromo), TUSIAB, Azerbaijan Entrepreneurs' Confederation, RATEK Russian Trade Companies and Electrical Housing and Computers Producers' Association. Professional cleaners, industrial cleaners, laundry equipments, toilet equipments, high-pressure facilities as well as big and small home appliances, audio and video machines, Hi-Fi, Hiu-End DVD, autoelectronics, office facilities, phone apparatus and photocopying facilities will be exposed.
28 companies from 5 countries will participate there. Koblenz, Robert Thomas, Germany, Star Ltd., Rohe Caspian, Azerbaijan, BEMZ, Vyazma, Electronics, Russia and Kale Chemistry, Turkey are amongst them, APA reports.