Asian Development Bank (ADB) has loaned 179 mln dollars to Azerbaijan in accordance with the Country strategy and program update, ADB's office said.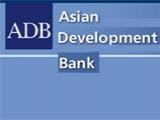 The funds will cover reconstruction of the roads, creation of the social infrastructure for IDPs and provincial cities, and child development.
Besides, ADB is expected to allot another 2 mln dollars for national poverty reduction strategy paper, AzerTAg reports.