State Customs Committee (SCC) negotiates foreign companies on purchasing new equipments to simplify the examination process and to strengthen control over water frontiers.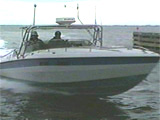 Aydin Aliyev, Chief of the Committee, told in his speech to the media that SCC plans the purchase of several motor-launches to take sea frontiers under complete control, APA reports.
"Equipments allowing the non-stop examination of trucks are subject to negotiations with foreign companies," Mr. Aliyev said.
First such equipment was installed over Silk Road. Prices of such equipments are $1-7 million. They are planned to be installed at all stations in the republic.