"Long-term salary increase policy is now driven. For this purpose state budget should be changed that demands more expenses," Samir Sharifov, Finance Minister, told to the media.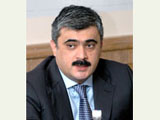 He also added that 2006 state budget to be changed thanks to increasing incomes. Touching long-term use of oil revenues, Sharifov said that President has his strategy on this matter. The strategy aims to manage oil revenues in meeting country's needs.
"We must determine optimal balance between expenditures of work implemented and to be implemented and resources managed. We try to reach this balance sooner. This is the main direction for us."
Samir Sharifov stressed his words on macroeconomic model to be drawn by government. Expenditures will significantly decrease if this model is truly run, APA reports.