"It is absolutely legal to put up property of some public enterprises at auction. This rule is expected to be implemented over some other public enterprises too," Fazil Mammadov, Taxes Minister told in his speech to the media.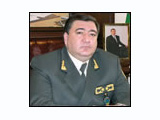 He reported that the businesses which own debts had many times been warned and notified. Mr. Mammadov also told that blockage on Barmek-Azerbaijan Energy Network Limited Liability Company accounts is disabled since May, 8.
"Barmek has paid all debts so far. However it still has other serious problems regarding its debts. That is why its accounts are expected to get blocked again."
Saying that he finds it normal that Barmek is going to apply against The Ministry of Taxes at court of law, Fazil Mammadov stated that Azerbaijan is law-based country. It is specific feature of a law-based country to solve problems in a court of law.
"Barmek has the right to apply at court like other companies," Minister said.
According to Mr. Mammadov, entrepreneurs will hold meeting in The Ministry of Taxes on May, 11.