8 050 thousand barrels (1 083 thousand tons) pure oil has been delivered to Baku-Tbilisi-Ceyhan (BTC) pipeline by May, 1 this year.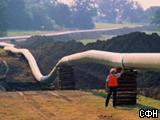 10 million barrels oil is required to fill the pipeline completely, APA informs.
Delivery to BTC pipeline started June last year. So 91,4 thousand tons oil was delivered in June, 84,3 thousand tons in July, 148,8 thousand in August, 72 thousand in September, 143 thousand in October, 20,5 thousand in November and 5 thousand tons oil in December was delivered. Totally 565 thousand tons pure oil was delivered to pipeline in 2005.
Oil volume delivered to BTC has been 60,347 thousand tons in January this year, 118 thousand in February, 130,051 thousand in March and 210 thousand in April.