President Ilham Aliyev held a meeting of the Cabinet of Ministers on the results of Q1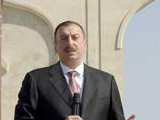 Making an opening speech at the meeting attended by government representatives, the President appraised the general socio-economic development of the country in the first months of 2006.
The head of state said that over the first quarter of 2006 the volume of GDP in Azerbaijan grew 39%, industrial production – 47%, amount of average monthly wage – 20%, community incomes – 18 % and added that strengthening of economic potential of the country made it possible to seriously influence the ongoing processes in the region.
"Strengthening of the Azerbaijani economy provided increase of budget assignments to needs of the social sector," Mr. Aliyev said.
The head of state noted that the growth pace of economic progress necessitates the review of parameters of the public budget and development of new programs on development of Azerbaijani regions.
Mr. Aliyev also noted the necessity for strengthening of a control over inflation, acceleration of work over development of a program on development of industrial potential, revival of activities of the state investment company, conduct of measures stimulating development of the non-oil sector.
In his final remarks Aliyev said Azerbaijan's currency reserves comprise $2.6bn and the figure will increase along with oil export.
"I'm sure that 2006 will be very successful for Azerbaijan," the head of state concluded.
The government members delivered report on the results of the first quarter.