The official opening ceremony of the Baku-Tbilisi-Ceyhan (BTC) Main Export Pipeline is due to be held in Ceyhan district of Adana province in Turkey in July this year, APA informs.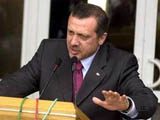 Turkey's Prime Minister Rajap Tayyip Erdogan underlined that there was no problem concerning the security of the BTC.
"In my latest meeting with Azerbaijani President Ilham Aliyev, we discussed this issue. Ilham Aliyev also ruled out any problem," Erdogan said.
Turkish Prime Minister also made clear concerns on terrorism: "Terrorism hits every part of the world. Oil pipelines pass through a number of terrorism-hit regions. However, activities have not been suspended in anywhere due to this problem. We cannot renounce oil pipelines because of terrorism threat."
Erdogan also commented on Iranian officials' statements that the BTC will be a target to an attack if the United States attacks Iran.
"There is nothing like that. We did not discuss this issue during our recent meeting with Iranian President Mahmoud Ahmadinejad in Baku," the Prime Minister said.
Turkish Premier also stressed the importance of the BTC for the economic development of Azerbaijan, Turkey and Georgia.