BP turns over its Black Sea shares.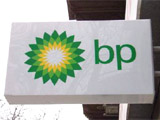 Reportedly, British companies British Petroleum (BP) and Madison Oil, once partners in The Turkish Petroleum Corps (TPAO) oil research process in the Black Sea, have turned over their shares to American Exxon Mobil and Toredor Resources.
According to the Turkey's "Zaman" newspaper, the transfer is predicted to not hinder oil studies in the Black Sea which continue as planned. The petrol companies' move is seen as a possible British withdrawal from the Baku-Ceyhan pipeline Project.