The Ninth Eurasian economic summit will take place May 8-10 in Istanbul, Turkey, Industry and Energy Ministry's PR office announced.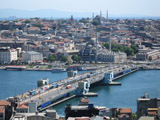 The summit organized by Turkey's Marmara Group and Istanbul Chamber of Commerce will bring together representatives of Austria, Romania, Russia, Georgia, Bulgaria, Slovenia, Macedonia, Tajikistan and other countries.
Azerbaijan delegation led by Minister of Industry and Energy Natig Aliyev will join the summit as well. Minister is going to deliver a report "Azerbaijan's Energy Policy in the Region".