Kazakhstan calls for building Aktau-Baku pipeline in Caspian Sea.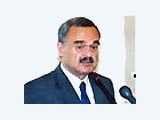 The Kazakh government is mulling a project to build a gas pipeline en route Aktau-Baku in the Caspian Sea, visiting Kazakh Prime Minister Danial Akhmetov stated in Baku on Saturday, at talks with his Azerbaijani colleague Artur Rasizade, Russia's Itar-Tass news agency informs.
"Kazakhstan is interested in transporting gas through the Baku-Tbilisi-Erzurum pipeline, whose construction is to be completed in late 2006," Akhmetov said.
The pipeline's rated capacity is up to 20 billion cubic meters of gas a year.
According to Akhmetov, "Kazakhstan regards Azerbaijan as the key partner in the energy sphere."
The issue of building a trans-Caspian gas pipeline was raised for the first time by Turkey in the mid-1990s. Initially, it planned to import up to 16 billion cubic meters of gas a year from Turkmenistan through Azerbaijan and Georgia, with a prospect to boost gas supplies to 50 billion cubic meters.
However, the project never materialized because of disagreements between Turkmenistan and Azerbaijan over gas quotas in the pipeline.
The project is worth three to four billion dollars.
After the energy crisis in Ukraine in early 2006, the European Union suggested that this project be reanimated.
The Kazakh premier also expressed the hope for the soonest singing by the heads of the two states of the agreement on transportation of oil from Kazakhstan through the Baku-Tbilisi-Ceyhan pipeline, with a throughput capacity of up to 50 million tones of oil a year.
"By the middle of next month an agreement may be signed with Azerbaijan on Kazakhstan's participation in the BTC oil pipeline project," Akhmetov told reporters.
He said that Kazakhstan regarded the BTC as an alternative route for exporting crude oil, Prime-Tass reports. The Kazakh government is drafting documents on the country's participation in the project.
"If this work is completed by the end of May, the two countries' leaders will be able to sign a new agreement by the middle of next month. In that case Kazakhstan will be able to increase the export of hydrocarbons through the pipeline to 7-8 million tonnes by 2008," Akhmetov said.