Flights have started on Vilnius-Baku airline this week. Airline travels are run twice a week, on Wednesday and on Sunday by Air Baltic Company.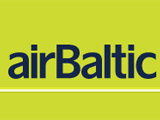 Azerbaijan Airlines State Consortium told APA that flights are on by Boeing-737 airplanes with 3,50 hours travel.
Kharkov-Baku airline also started in late April. This flight is on once a week, on Tuesday by Um Air Company, Ukraine. For the reason that line is filling by 40% only, it is expected that the company will sustain losses. Nevertheless, Um Air is expected to be profitable by 2007 increasing flights by two times.