"Barmek-Azerbaijani Electricity Company LLC raised a question vis-?-vis the Economic Development Ministry on violation of stipulations of its agreement with the government and some state structures' not paying their electricity fees," Company President Huseyn Arabul stated.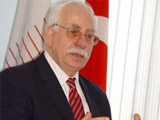 He said that Barmek demands of the government to set up ad hoc commission to investigate the matter.
"State Structures had to pay 99bn manats to Barmek as of the end of 2005. These debts reach 130bn manats now. The ministry has to respond our appeal by May 13. Otherwise, we will take these state structures to court and they will be fined."
Arabul said that after the ministry answers, Barmek's lawyers will come to Baku from the UK and Turkey. He thinks the government is afraid to say "Go away" to Barmek.
If the contract is invalidated groundlessly, Azerbaijani government has to pay damages of $250mln to Barmek, according to stipulation of the agreement.
"President ordered officials to solve the problem within legal norms. But two high-ranking officials exert pressure on me to leave Azerbaijan. Innocent officials of Barmek are in custody because of them. I favor solution to the problem within law."
Arabul claims that if he is reported from Azerbaijan, the quarrel over damages will overtake Saka Korkmaz scandal happened some years ago.
"Unless the problem is solved within law, I will solve the conflict in the court but not in Azerbaijan of course, in international courts."