Anar Ahmadov, Department Head of the Committee says the paper may be issued to any natural or juridical person giving credits.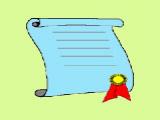 As ANS reports, the papers provide a number of advantages for both sides. As, person with a mortgage credit paper on obtaining credit is entitled to sell or present the estate with the credit obligations together.
Besides, men with the paper don't need for a notary approval on returning the debt. On top of all, the mortgage credit paper itself can be left as deposit. The paper also meets interests of creditors. If the opposite side don't fulfill obligations, the creditor may obtain the estate on the deposit, says Anar Ahmadov.