A Topaz delegation visited Azerbaijan in the Caspian region to hold discussions with SOCAR.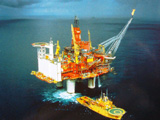 According to Oil&Gaz Journal, the parties were discussing areas of mutual interest and opportunities for investment in the Caspian region.
Topaz plans significant investments in the building of new offshore support vessels in the Caspian region in the next few years, providing support services to the offshore upstream energy sector.
In total Topaz will spend $100 million over the next two years expanding its fleet.
Currently it operates 70 vessels including offshore supply ships, work barges, and ice-breakers.
It plans to add 25 vessels to the existing fleet and to replace ships earmarked for retirement.