The 4th meeting of the Azerbaijani-Kazakh commission on economic cooperation started its work in Baku on 29 April.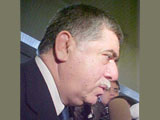 The meeting is held under the chairmanship of the first vice prime minister of Azerbaijan, Abbas Abbasov, and the Kazakh Minister for Energy and Mineral Resources, Baktikoja Izmuhambetov, Trend reports.
According to Abbasov, the interrelationships between Azerbaijan and Kazakhstan are deepening. "We have potential for multilateral economic cooperation, whilst, unfortunately, the level of trade-economic relationships still fell short of existing potential," he underlined.
Mr. Izmuhambetov said the main issue of Azeri-Kazakh cooperation in oil transportation is establishment of Aktau-Baku-Tbilisi-Ceyhan transport system to become one of basic elements of Kazakhstan's fuel policy.
Minister said also both the sides shall strive to develop partnership in priority-driven spheres. First, the speech goes of transportation of hydrocarbons, chemicals and oil&gas equipment. He also considers necessary to support the companies in both the countries that plan to set up joint ventures on manufacture of oil&gas equipment, supply and erection of chemical industry machinery.
Considering Azerbaijan's experience in oil&gas sphere, Kazakh side expressed its concern in implementation of high-tech projects in this sphere.
Minister stressed positive cooperation between JSC Kazakhstan Engineering with Azeri partners on supply of components for drilling rigs. Azneftkimamash and KazMunayGaz were assigned to examine and bring to the sides consideration a project on establishment of a joint venture for manufacture of oil&gas equipment in Baku.