Experts from the governments of Azerbaijan and Kazakhstan discussed the draft intergovernmental agreement on the transportation of Kazakh oil via the Baku-Tbilisi-Ceyhan (BTC) pipeline on the eve of the fourth meeting of the intergovernmental commission for economic co-operation due to take place April 29 in Baku.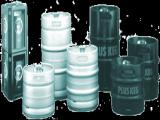 A source in the cabinet of Azerbaijan has informed Kazakhstan Today correspondent that during a discussion on the transit of Kazakh oil via the BTC the Kazakhstani experts proposed reconstruction of Aktau and Baku ports in view of the future growth of oil transportation through the Caspian.
"The Kazakhstani side proposes reconstruction of Aktau and Baku ports for large capacity tankers. This idea is unprofitable for Azerbaijan because it leads to disparity of profits during the transportation of oil, because the CASPAR does not have large capacity tankers and is only planning construction thereof. Besides, when these tankers are used there is no necessity to lay a trans-Caspian pipeline from Aktau to Baku proposed by the Azerbaijiani side," the source said.
The government has noted that the expert consultations will continue today, April 28. "The Kazakhstani members of the working groups for the draft agreement will be received by Natiq Aliyev, Minister of Industry and Energy of Azerbaijan. They will also hold consultations in the other involved organisations (SOCAR, CASPAR etc.) The final objective of the discussion is initialling of the intergovernmental agreement in June so that it could be inked during the official ceremony of the BTC commissioning," the Cabinet source said.
/www.gazata.kz/