The Elektropribor plant and Amtel-Chernozemye tire complex of Russia plan to establish their branches in Azerbaijan. Negotiations are underway at present.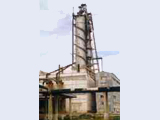 APA was informed about it by the representative of the Baku city Executive Power in Voronezh Ilham Kazimov. Mr.Kazimov said that the Elektropribor plant operating since 1956 produces airliner spare parts, gas supply meters, aviation and medical equipment. This plant sells its products in Russia and exports abroad.
The Amtel-Chernozemye tire complex manufactures tires for cars and trucks.