Hilmi Guler, the Turkish Minister for Energy and Natural Resources, sated to symposium on Energy and Development of Turkey that it is necessary to think of nuclear power in case the prices of oil reach $75-77.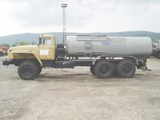 As Trend reports, issue on intensification of nuclear researches was earlier investigated at the Turkish Security Council, which approved a program on the construction of power station.
In the beginning of 2006 Minister Guler was on an official visit to the United States to discuss technical problems of development of the country's nuclear power. It is panned to construct the first Turkish nuclear power station near Sinop city in the Black Sea coast.
However, the implementation of the project is threatened by protests of local residents and position of numerous ecological organizations of Turkey, who remind of damage on the country as a result of an accident in the Chernobyl Nuclear Power Station.