Georgian Energy Minister Nika Gilauri said on April 26 that Georgia wants the right to purchase more gas shipped through the Baku-Tbilisi-Erzrum pipeline at a reduced price than is envisaged by the current contract.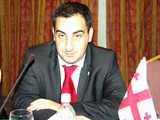 After construction of the Baku-Tbilisi-Erzrum gas pipeline, Georgia will receive 5% of the natural gas transported from Azerbaijan to Turkey as a transit country. Georgia will also purchase an additional half billion cubic meters of gas per year at a reduced price - USD 55 per 1000 cubic meters for the next 20 years.
"Negotiations are currently under way with Azerbaijan and other contracting partners to increase Georgia's share - I mean the amount of gas that Georgia can additionally purchase," Nika Gilauri said.
According to Civil Georgia online magazine, Gilauri made these remarks at a news conference, which was held jointly by all members of the cabinet for a large group of Georgian journalists.
/www.civil.ge/