An agreement on economic-trade and cultural cooperation will be signed between Voronezh province of Russia and Azerbaijan soon.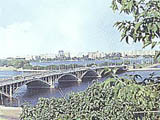 Relevant preparatory works are underway at present. This information was given at a press-conference held by the chair of the Chamber of Commerce and Industry of Russia Yuri Goncharov being on a visit in our country, APA informs.
According to Mr.Goncharov, from April 26 to 29 "Days of Voronezh province" to be held in Azerbaijan. A delegation consisting of the heads of the administration of Voronezh province, advisers and heads of 15 leading production enterprises came on a visit to Azerbaijan on this occasion.
Mr.Goncharov said that there Azeri Diaspora organizations act in Voronezh and noted that the volume of trade turnover between Azerbaijan and Voronezh province is small. That is why the delegation offers to expand the relations. Azerbaijan may purchase equipment needed for machine-building, metal constructions, oil products, and Russia may purchase agricultural products from Azerbaijan.
According to Mr.Goncharov, if the agreement on economic-trade and cultural cooperation is signed soon, works done by them may give primary results by the end of this year.
The chair of the "Unity" regional Voronezh department of the All-Russia Azerbaijan Congress Ilham Kazimov thinks that the delegation which came to Azerbaijan for seeking partners, will achieve it. He expressed his belief that the cooperation will be successful.