The Baku city Head Production Gas Office (BakGaz) revealed over 200 citizens who intervened in the work of gas supply meters installed in houses.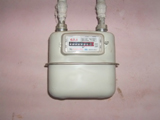 According to the deputy-chief of BakGaz Nusrat Gasimov informing APA about it, some of those persons paid for gas supply meters they had put out of operation and bought new meters.
Mr.Gasimov also stressed the level of collection of gas payments from subscribers in Baku city is still low. According to him, at present 23% of 520 thousand subscribers pay for gas they consume. Payments by villa owners increased from 62% to 73% after the warning issued by BakGaz.