Labour protection and adherence to technical security norms to be valued in structural units of AzerEnergy.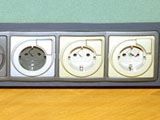 In December of this year the jury headed by the chief engineer of AzerEnergy OJSC Saleh Mammadov will value complex works implemented in enterprises and organization of the national power energy system on labour protection and prophylactics of work injuries, adherence to technical security norms, creation of necessary housing conditions at workplaces, observance of sanitary-hygienic and medial requirements, conducting of fire protection trainings.
APA was informed about it from the press-service of AzerEnergy.
The commission established for this purpose will also examine security equipment, application of security equipment in the production process in accordance with the existing acts, training of the personnel under extraordinary conditions and etc.
It should be noted that the examination-competition will be completed at the end of the year and the winners to be determined on various nominations will be awarded with money prizes and diplomas.