UniBank carried out transactions with securities worth AZN 4.8m manats in the first quarter of 2006.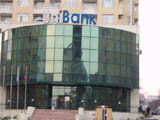 This represents an increase by 88.24% from the first quarter of 2005, in which the transactions by the Bank reached the value of AZN 2.55m manats.
UniBank also carried out brokerage transactions worth AZN 2.05m manats in the first quarter of 2006, which represents an increase by 127.8% from the corresponding period of 2005.
The total value of the dealing transactions by UniBank reached the worth of AZN 2.75m manats during January-March 2006 and was 66.67% up on the same period last year.
UniBank dealt in the T-bills issued by the Ministry of Finance of the Azerbaijan Republic, the notes issued by the National Bank of Azerbaijan and corporate bonds and shares, and acted as an underwriter and as a broker during the first quarter of 2006.