14th meeting of the Organization of Black Sea Economic Cooperation (OBSEC) member countries' foreign ministers will take place in Bucharest on Wednesday.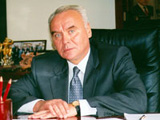 The meeting will be attended by delegations from Azerbaijan, Albania, Armenia, Bulgaria, Greece, Georgia, Moldova, Russia, Rumania, Serbia and Montenegro, Turkey, Ukraine as well as observers and guests.
Azerbaijani Foreign Ministry spokesman Tahir Taghizade told APA that Deputy Foreign Minister Mahmud Mammadguliyev will represent Azerbaijan in the meeting.
Participants will discuss final results of Rumania's chairing the organization, environment, transport, meeting results of interior ministers, working groups and the ministers will acquaint themselves with the activities of OBSEC Parliamentary Assembly, Business Council, the Black Sea Trade and Development Bank and the Black Sea research International Centre.
Russia will chair the OBSEC from May for six months.