In the first decade of May the World Bank (WB) will start final discussions with the government of Azerbaijan on the "Health reforms", "Development of the judiciary system", and "Agricultural development and crediting – II" projects.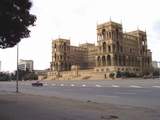 In this connection, Bank's relevant missions are planned to visit Azerbaijan at the beginning of May, APA informs.
It was informed from the Baku Office of the Bank that after financial conditions and components of all tree projects are coordinated with the government of Azerbaijan, those projects are expected to be discussed at a meeting of the WB's Board of Directors by June.
In general, the projects are supposed to be approved by July.
WB intends to grant $80-90 mn on those projects.