The chair of the Chamber of Account of Azerbaijan (CAA) Namig Nasrullayev left for Ankara to attend the XI annual meeting of the Economic Cooperation Organization of Supreme Audit Institutions (ECOSAI).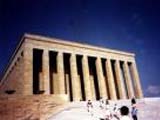 The meeting will discuss organization issues of ECOSAI and report on the works implemented last year will be given. The participants of the meeting will also determine the date and place of the next ECOSAI conference.
The meeting will end on April 28, APA informs.