The 9th Eurasia Economic Forum will be opened in Istanbul, Turkey, May 7.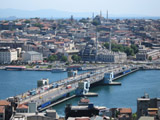 Azerbaijani Consul-General in Istanbul Ibrahim Yaghubov (Nabioghlu) told APA that the Forum would be organized by the Marmara Fund at the Istanbul Commerce Chamber.
The first day of the forum will focus on energy issues, the second day on economy and industry, and the third day on security and fighting against national and international terrorism.
The latter will be on the agenda for the first time.
The 9th Eurasian Economic Forum will bring together delegations of several countries, including Azerbaijan. Azerbaijani prominent singer Azerin has been invited to the gala concert on the opening of the forum.