The State Committee for State Property Management (SCSPM) announced investment competition on the sale of 85% of stocks of the Sumgayit Industrial Production Open Joint Stock Company.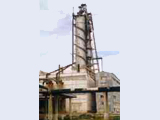 As APA reports, the competition is open for both local and foreign investors. Maximum amount of investment proposal, obligation on its productive investment, professional experience in commissioning of industrial establishments, production and sale of building materials are main requirements of the competition.
The Sumgayit Industrial Production OJSC located in Sumgayit, specialized in industrial and building activity. Company's regulations capital is AZN 1 017 192, number of issued stocks is 508 596, face value is AZN 2 per stock. The Company's 432 307 stocks have been put up for the investment competition. The face value of these stocks is AZN 864 614. It has not any shares or non-material assets in other companies, it has employed 499. Total commitments work out AZN 2 066 729, and AZN 28 254 of which constitute salaries and debts equal to it. Goods, work and services work out AZN 1 103 939. The Company's debts constitute AZN 675 163.
As coming to commitments required by the applicants, the SCSPM said, the applicants are to present an Investment Program to achieve production of high quality building materials as well as fiber glass pipes. Besides, offers on application of high technologies, making products that meet international standards, increasing diverse products, offers on opening of new jobs, social maintenance of workers as well as offers on the 5% of the total sum of the investment volume offered within 30 days to the Company's account and spending of this sum, offers on money to be paid to the state budget, offers on state privatization bills (not less than 30,000) to be presented to the SCSPM, are to be made and foreign investors are to present state privatization options equal to the number of offered bills.
The winner of the competition is to pay salary and debts equal to it, pay the offered money to the state budget, within 90 calendar days, present the offered state privatization bills (foreign investors to present state privatization options) within 120 calendar days, to pay 5% of the total sum of the investment volume offered within 30 days to the Company's account according to Investment Program.
Besides, the winner is to fulfill other requirements and commitments under a contract, allocate investment in compliance with directions and stages shown in the Investment Program.
The deadline for applications and offers is 22 May. The Competition Commission will evaluate the offers from 24 May.