The Turkish Airlines will increase the number of flights in connection with the summer season.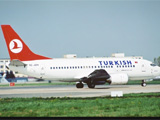 APA was told by the senior manager of the Azerbaijani office of the Turkish Airlines Nejet Shark.
According to Mr.Shark, the company implements 7 flights a week on the Baku-Istanbul route at present.
Starting from June 12 the number of flights will be brought up to 10. So, there will be two flights a day from Baku to Istanbul on Mondays, Wednesdays and Fridays. One flight will be implemented on other four days of the week. After the summer season has ended, the Company will again reduce the number of Baku-Istanbul flights to 7-8.
Mr.Shark also noted that from now on, every summer the number of flights will be increased. According to his words, taking into account the large number of persons flying from Baku to Antalya, the Company will organize flights to that city starting from June 11. The Baku-Antalya flight will be implemented on Sundays.