The Operative Supervision Office of the Ministry of Taxes conducted raids in 3429 objects to examine the state of using cash registers.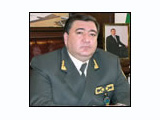 The Chief of the Office Habil Mammadov, informing journalists about, it said that no buyer's checks are given in most of those objects.
Mr.Mammadov said that 25 thousand objects operate in Baku and cash registers were installed in approximately 22 thousand of them: "The raids in which journalists also took part, we revealed some cases of absence of cash registers. It becomes difficult to control objects in Baku city. I must say that some of those objects use cash registers, and others use receipts approved by the Ministry of Finance."

Mr.Mammadov also added that the Ministry of Taxes plans to further strengthen control, APA reports.