After the authorities of the BAYVA electricity distribution company were transmitted to the Azerenergy Open Joint-Stock Company (OJSC), stock-taking of subscribers along with the local executive powers is continued.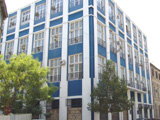 As APA reports, installation of power supply meters for commercial and state consumers, and population is underway at present. Loans were received from the International Bank of Azerbaijan and Societe General Bank of France for acceleration of these works. 10 thousand power supply meters were purchased from Kazakhstan.
BAYVA's networks have not been officially transmitted to Azerenergy yet because the abolition commission of the Ministry of Economic Development did not complete its work. In fact, the electro-energy office has been fulfilling the functions of "Ganja electricity network" LLC and "Ali Bayramli electricity network" LLC since May. Besides, the Energy Supply Office coordinating electricity sale and collection of electricity payments was established.
Five regional limited liability companies were established in the provinces – Ganja, Mingechevir, Imishli, Ali Bayramli and Masalli, which will be accountable for distribution of electricity to consumers.