According to IMF forecasts, Azerbaijan will be in the lead among the CIS countries concerning rate of economic growth in 2006-2007, the republican Gross Domestic Product will increase correspondingly by 26.2% and 22.9%.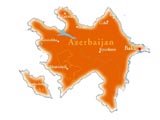 Such development is forecasted in an annual report of International Monetary Fund (IMF), made for forthcoming session of the IMF and the World Bank, AT agency reports.
According to the report, following rates of GDP growth in other former Soviet republics are forecasted: in Russia in 2006, 2007 correspondingly 6% and 5.8%; in Ukraine – 2.3% and 4.3%; in Armenia – 7.5% and 6%; in Tajikistan – 8% and 6%; in Georgia – 6.4% and 5%; in Kazakhstan – 8% and 8.3%; in Belorussia – 5.5% and 4%; in Kyrgyzstan – 5% and 5.5%, in Moldavia – 6% and 5%, in Uzbekistan – 7.2% and 5%; in Turkmenistan – 6.5% and 6%.
Taking into consideration high world oil prices at present, authors of the report advise thoroughly to control social expenditures, do not permit uncontrolled inflation, and to achieve, at the same time, increase of investments into economy. According to IMF experts, rate of growth of world economy will total 4.9% this year, and 4.7% next one.
/Regnum/