96% of the works on the South Caucasus Pipeline (SCP) project have been implemented.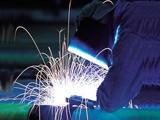 As APA reports, 98% of construction of the pipeline's Azerbaijani part, and 93% of the Georgian part was completed by the end of the last month.
The President of the BP-Azerbaijan David Woodward told that building of SCP in the territory of broadening of the Sangachal terminal is also about to be terminated: "At present, exploitation-testing works are being carried out there. According to the existing plans, gas will be pumped into the SCP system from the Sangachal terminal by the end of May in order to test the whole system. It is also expected that connection of gas delivery objects to the Azerigas, Georgian International Oil Corporation, and BOTASH will be completed in III quarter."
The works on SCP are underway in a scheduled form to receive first gas at the end of III quarter of 2006.