5th Azerbaijan International Travel and Tourism Exhibition (AITF-2006) started in Baku yesterday.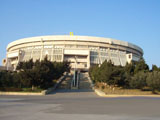 As APA reports, the exhibition organized by the ITECA Caspian, exclusive partner in Caucasus of the ITE Group plc will continue to April 22. The exhibition is officially supported by the World Tourism Organization, Ministry of Culture and Tourism, Ministry of Economic Development, Chamber of Commerce and Industry, Union of Tourism Industry Development, Azerbaijan Investment Promotion and Advisory Foundation, and Association of Travel Exhibitions' Organizers.
The director of ITECA Caspian Farid Mammadov attending the opening ceremony of the exhibition said that 42 companies representing 10 countries are taking part in the exhibition. There famous tourism companies among them from Turkey Switzerland, Malaysia, Germany and other countries.
Local companies are mostly represented in the exhibition this year. 60% of the exhibition consists of their stands. In general, over 200 companies have participated in this exhibition for the 5 years.
Khankishi Akhundov, the deputy director general of the general sponsor of the AITF-2006 Azerbaijan Air Lines State Concern noted that growth of the number of the participants is the indicator of that the interest to Azerbaijani tourism raises. He considers that hotels and local tourism companies in Azerbaijan are capable to provide high-standard services to tourists.