Not all issues have yet been discussed on the inter-governmental agreement about joint oil transportation via Baku-Tbilisi-Ceyhan (BTC) pipeline.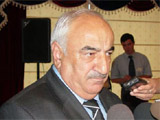 It is too early to speak about this treaty yet, the head of the state commission on preparation of transport agreement with Kazakhstan, Abid Sharifov told Trend. "We don't have the authority to sign this treaty, not all matters are settled down," he said.
A work group from Kazakhstan is expected to arrive to Baku this week in order to coordinate some matters, Sharifov said. "There are a lot of serious matters on the agenda. And some new questions will be raised," he said.