Kazakh delegation headed by the PM, Daniel Akhmedov will take part in the Economic Cooperation Organization (ECO) summit May 4-5 in Baku, the Kazakh Embassy's in Baku advisor, Erjan Mukash infotms.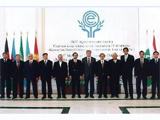 The Kazakh PM is planning to meet his Azerbaijani counterpart and the head of the state.
"Heads of the Kazakh state bodies and their deputies will be among the delegation. Current bilateral relations will be discussed at the meeting," he said.
Kazakhstan also has plans to join the Baku-Tbilisi-Ceyhan pipeline, Mukash added. Talks in that area are now underway, Trend reports.