Delegation led by the Chair of the Chamber of Account of Ukraine Valentin Simonenko will visit Azerbaijan May 3-7.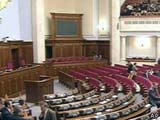 Agreement on bilateral cooperation between CAA and Ukrainian Chamber of Account is expected to be signed during the visit. The agreement is provided for training of cadres, exchange of information and experience, implementation of joint inspections.
Mr.Simonenko during his visit will meet the President of Azerbaijan Ilham Aliyev, speaker of the parliament Ogtay Asadov, and other officials. The Chair of the Ukrainian Chamber of Account will also meet with students on one of Azeri universities.

The delegation led by Mr.Simonenko was expected to visit Azerbaijan as far back as December of the last year.
CAA has signed bilateral cooperation agreements with the relevant organizations of Russia, Turkey, Georgia and Pakistan and memorandum of understanding with Iran, Kuwait, and England so far, APA reports.