His Excellency, Ilham Aliyev, President of the Republic of Azerbaijan, plans to open this major event which will feature exceptional access to a wide range of senior government officials and business leaders from both the U.S. and Azerbaijan.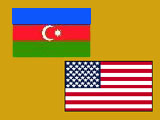 The United States - Azerbaijan Chamber of Commerce (USACC) yesterday announced that His Excellency, Ilham Aliyev, President of the Republic of Azerbaijan, will deliver the keynote address at its 6th Business and Investment Conference, the theme of which is entitled "U.S. - Azerbaijan Strategic Relations: Political and Commercial Priorities." The Conference is scheduled to be held in Washington, DC, April 27, 2006.
"This conference will provide a chance for the U.S. business community to acquire and develop the most current information about business and investment opportunities in Azerbaijan and the broader Caspian region. Perhaps more importantly, President Aliyev's address will offer an important perspective on the state of the U.S.-Azerbaijan bilateral relationship and should therefore serve to further inform U.S. businesses," said James A. Baker IV, USACC Co-Chairman. "Any U.S. company interested in business opportunities in Azerbaijan ought to attend this important event."
Located at the strategic crossroads of southeastern Europe and Asia, Azerbaijan last year recorded 24 percent growth in its booming economy. Driven by historically high oil prices and the commencement of operations of the BTC pipeline that carries the nation's production directly to the Mediterranean, the national economy achieved the highest growth in any country in the world in 2005 and projections for 2006 suggest that this year's growth is poised to reach the same level. During the past decade, Azerbaijan attracted more than $25 billion in foreign direct investment. The top priority of the Government of Azerbaijan now is to direct oil profits to the development of other economic sectors and to attract foreign investment to agriculture, telecommunications, infrastructure, tourism, and other industries.
As the USACC celebrates its tenth anniversary, this high-profile event will feature a general session with several panel discussions and presentations, a keynote luncheon and a closing banquet. The conference will offer an unparalleled opportunity to receive updates about Azerbaijan and the Caspian region and to meet with the President and key decision-makers in the Azerbaijani government and business communities.
Other scheduled speakers include: Senator Sam Brownback; David Merkel, Director, U.S. National Security Council; Heydar Babayev, Minister of Economic Development; Matthew Bryza, Deputy Assistant Secretary of State; and Samir Sharifov, Executive Director, National Oil Fund.
/www.usacc.org/