April 17 the Chairman of the State Customs Committee (SCC) Aydin Aliyev received the mission of the International Monetary Fund (IMF).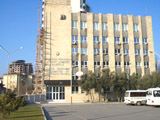 As APA informs, the Chair of the Committee expressed his satisfaction on the relations between the IMF and government of Azerbaijan and SCC, and said that customs authorities took part in formation of budget receipts and gave its gift to concentration of the modern tax policy in the country.
According to Mr.Aliyev, although as result of formation of the efficient tax system in the country, share of customs taxes and duties in budget receipts is decreasing from year to year, the amount is growing every year.
So, customs authorities last year fulfilled the annual forecast in advance and 1st quarter of the current year also ended successfully. Mr.Aliyev stressed that in the first three months of this year AZN 125.629 million was transferred to the state budget, the forecast was fulfilled 101.2% and works in this direction will be continued in the following months as well.

The Head of the IMF mission Vitali Kramarenko, in his turn, expressed his attitude to works implemented in the customs system and stressed his confidence that the organization represented by him and SCC would further develop their cooperation.