Azerbaijan's parliament speaker Ogtay Asadov today received the delegation led by John Bourn, the chief inspector and auditor of the British National Audit Office.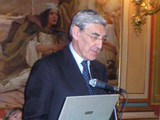 The parliament's press service informed APA that the speaker talked about economic reforms in the country, increase of budget incomes, watch on spend of state allocations and the role of the parliament and Azerbaijan's Chamber of Account in this work.
Sir John Bourn said that the objective of his visit is to discuss some principles of the mutual memorandum of understanding between the Chamber of Account and the British National Audit Office.