At today's plenary session of Kazakhstani Majilis (Lower Chamber of Parliament) it approved draft law "On ratification of Protocol on amendments to agreement between governments of the Republic of Kazakhstan and Azerbaijan on free trade as of June 10, 1997".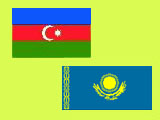 The Protocol foresees abolishment of withdrawals from the free trade regime that were set up by the Protocol on withdrawals from the free trade regime being an integral part of the accord, KAZINFORM reports.
Cancellation of withdrawals is conducted in accordance with the schedule agreed while signing the Protocol as of July 1, 2006. Withdrawals were practiced in relation to alcohol and alcohol-free drinks and tobacco.
The Protocol was signed on May 24, 2005 in Baku.