The Ministry of Finance invited the Turkmenian part to Baku for continuation of negotiations on Azerbaijan's debt to Turkmenistan.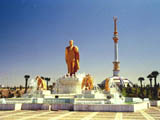 As APA reports, according to the chief of the international affairs department of the Ministry of Finance Mardan Mardanov, although the Ministry of Finance of Turkmenistan offers to repay the debt, it refuses coming to Baku for direct participation in negotiations.
The Turkmenian side involves foreign companies in the process and tries to magnify the debt as much as possible.
"Azerbaijan's debt to Turkmenistan occurred as a result of purchasing natural gas from that country in 1994-1995. According to the protocols of Azerigas, our debt amounts to $18 million. Turkmenistan claims that the debt is larger and does not afford any proofs. Despite our appeals, the Ministry of Finance of Turkmenistan refused open talks", - Mr.Mardanov said.
Mr.Mardanov noted that the debt will be liquidated by the government of Azerbaijan and informed that Georgia is ready to repay its $16 million debt to Azerbaijan and negotiations on this issue are over. According to the Ministry's official, the Ministry of Finance completed negotiations and is waiting for a decision of the government.
According to Mr.Mardanov, this year government plans to repay approximately $124 million of debts to various international financial institutions.