Evaluation of financial efficiency of each operation has been started to be introduced in the MBask Insurance Company.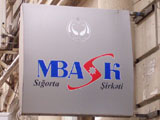 The novelty is implemented on a recommendation from the European Bank for Reconstruction and Development – shareholder of the Company and on the basis of the support from international experts, APA reports.
This evaluation model is introduced in Azerbaijan for the first time, and relevant internal organization reforms have been started in this connection. Financial-economic analysis of the Company's activity has already been carried out and directions yielding more profit or damage were revealed.

MBask found out that some operations take more administrative costs than profit they generate. However, at first glance, those directions of activity seem to be quite profitable. That is why the Company implemented internal restructuring reforms and refused ineffective portfolio.
So, although some insurance services form 26% of Company's portfolio, share of income derived from those services equals to 4-5% of aggregate incomes. Those are mainly some obligatory insurance kinds with premiums less than payments.