Last year under the land reforms 4.9 million hectares (56.9%) of the single land supply was kept in state ownership, 2 million hectares (23.5%) transmitted to municipal ownership and 1.7 million hectares (19.6%) privatized.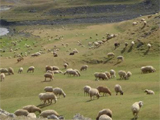 As APA informs, it was established that by January 1, 2006, 3.4 million subjects (826,268 households) were given lands on the basis of legal documents and it is 99.5% of the total work. 99.8% of 1.4 million hectares which was under exploitation of former sovkhozes, kolkhozes and other agricultural enterprises have already been privatized. AT the same time, legal documents on 11,326 land purchase and sale operations were prepared and 1,998 operations were related to land renting in the reporting year.
At the same time, land-construction works were implemented in 42.3 thousand hectares, land research works in 209 thousand hectares, geobotanical researches in 88.2 thousand hectares, land valuation works in 183 thousand hectares of pastures, summer and winter pastures, frontier mapping works in 107 thousand hectares of forests and water resources inventory lands and territories under special protection, and stock-taking works in 950 thousand hectares.

Moreover, economic valuation of lands was carried out in 32 regions; electron cadastre maps of 5 regions were prepared, development works on land reclamation were implemented in 541 hectares, and maps were prepared on monitoring of lands in 3,061 hectares. Besides, official acts reflecting lands and borders of 638 municipalities were drawn up.

In addition, certificates on right of possession of lands under private houses, collective and cooperative gardens of 5,072 citizens in the territory of Baku and Sumgait cities and Absheron region were registered in the state cadastre and presented to citizens.
In the reporting year statements were drawn up on 721 land legislation breach facts in the republic in accordance with the Administrative Breaches Code, 448 of those facts were removed, administrative protocols were drawn up on 248 facts and physical or legal persons were fined, and documents on 16 facts were sent to relevant courts.