If Imishli Sugar-Refinery meets the needs, there will be no need to sugar import, Economic Development Minister Heydar Babayev told journalists.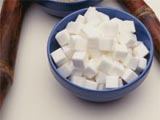 According to APA, the Minister said that after implementation of some measures the sugar produced by the sugar-refinery in Imishli might be exported.
$80 million was spent on the Imishli Sugar-Refinery. The establishment is in the power of producing 5 thousand tons of sugar per day.

The sugar-refinery has more than 2 thousand tons of sugar-beet in reserve. The establishment will expand cooperation with farmers engaged in growing sugar-beet. So, sowing areas will be increased to 15 thousand hectares from 2 thousand hectares by the end of the current year.